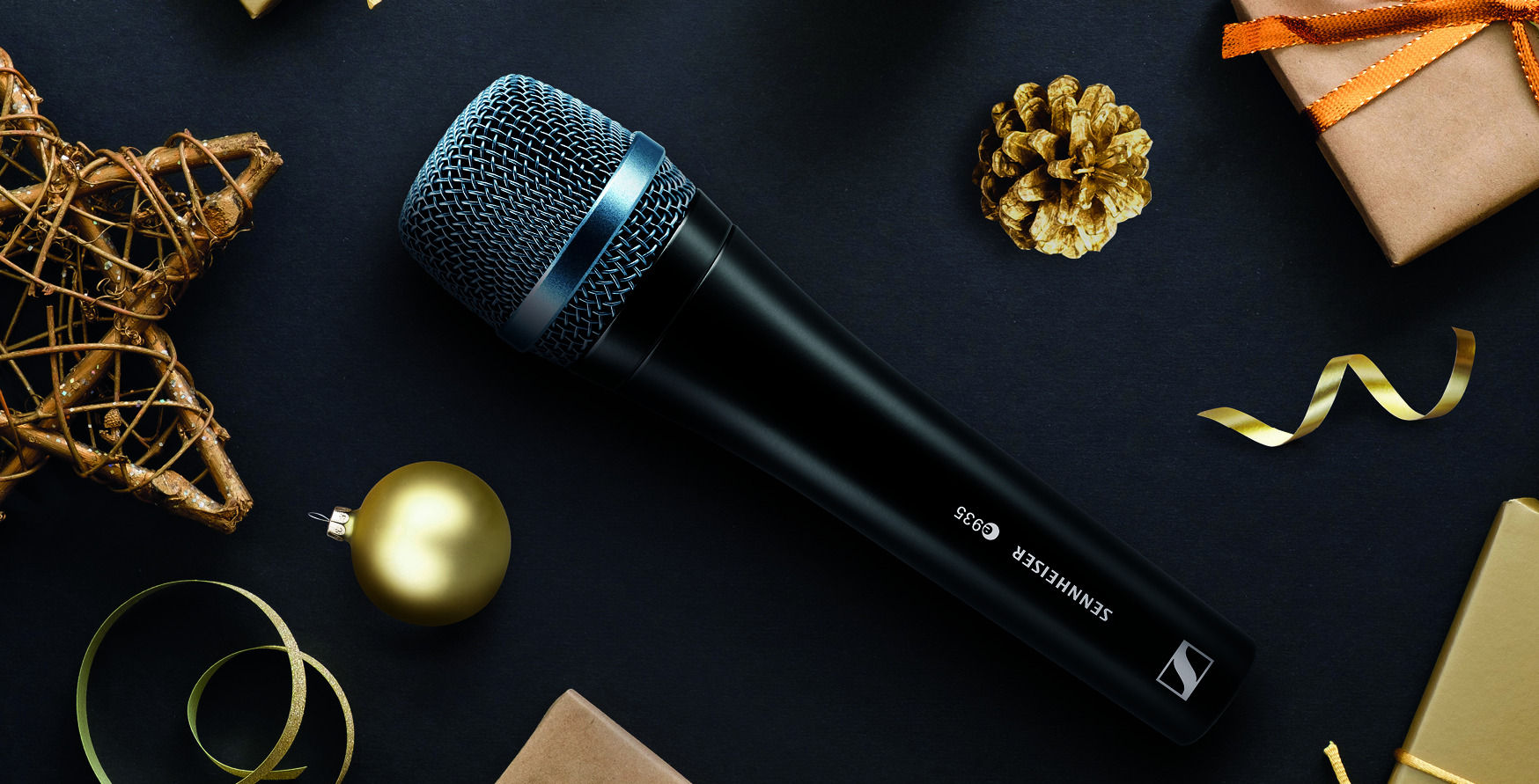 The mic before Christmas: How to capture the perfect festive sound
How the right technique and microphone can help recreate the sound of Christmas
While motorists sing along to "Driving home for Christmas" on the car stereo, others are staying in to enjoy a "Silent Night". It's that special time of year when we go misty eyed over a "Last Christmas"' heartbreak while "All I want for Christmas is You" offers a promise of better things. No matter the emotions – and 2020 has certainly given us all plenty of ups and downs – there's a definite magical quality in the air when Christmas songs and carols start to play. But maybe there's more to the Christmas sound than magic? Maybe the secret to capturing Christmas sounds and music lies in the recording, the right microphone and the right technique? Expert sound engineer Carsten Kümmel offers tips for sparkling results.
Sound experiments in your own four walls
Carsten Kümmel knows how this Christmas mood can be created musically with Sennheiser microphones: The well-known sound expert is not just an expert tonmeister and sound engineer with many years of experience, but also teaches as Professor for Public Address and Live Recording at Darmstadt University of Applied Sciences.
Kümmel reveals tips and tricks for perfect recordings: "It does not necessarily always have to be an MKH condenser microphone from the professional class," explains the audio expert. "Even simpler dynamic microphones, which don't require you to dig quite so deeply into one's pockets, can let you achieve outstanding results. However, it's vital that the right microphones are used correctly."
According to Carsten Kümmel, you should, whenever possible, ensure that the room is not too small when recording at home, because otherwise the recording will sound "small", too. This is caused by what is known as "early reflections". They hit the microphone diaphragm very early and with high intensity in small rooms – a spacious living room is therefore more suitable for a good sounding recording than a cramped little storage room. If a reverberant sound image is required, you can even experiment by using staircases or bathrooms.
In other words, the room in which a recording is made has a significant influence on the sound character of a recording. If you do it skillfully, your own four walls already offer quite a few possibilities.
Capture the sounds of Christmas - Fireplace crackles, cookie crunches and reindeer
Mic technique can also help to capture all those subtle sounds that help make up the ambience of the festive season. For natural sounding recordings, a suitable distance between the microphone(s) and the sound source is important to achieve a balanced spatiality. Obviously with a crackling fireplace fire, it's sensible to avoid getting too close to the blazing logs with any sort of microphone. The goal, however, is to get the balance right and ensure an optimal relationship between direct sound and the reflections resulting from the surrounding room ("reverberation").
Of course, when shooting in the forest, you don't have to deal with room reflections - so if you want to record steps in the snow or cracking branches outdoors, you can easily get close to the source of the sound. However, recording reindeer in the wild needs a bit more space and care: Set up the camouflage tent at a safe distance and use a shotgun microphone such as the Sennheiser MKH 70-1 or MKH 8070 to capture the hoarse calls or the characteristic clicking sounds of reindeers' steps.
What about bringing out those small, yet evocative sounds like nibbling cookies or sipping hot mulled wine? No doubt it'll be easy to find helpers to enjoy the treats but to make recordings a little more effective the right mic technique can help: With the legendary Sennheiser models MD 441 (ideal for high sound pressure levels and featuring a fast transient response) or MD 421-II, you can position yourself as close as possible to the sound event and experience the results in a suitably festive ASMR video.
As a rule of thumb: the larger the sound source, the greater the distance. But that doesn't mean driving out to the next village with your mics to record Christmas church bells - a shotgun microphone such as the universally popular Sennheiser MKH 416 can be the tool of choice here. Sometimes, a friendly conversation with the local church can work wonders with regard to finding a perfect recording location. It's certainly one way to escape the Christmas pop songs, but don't forget to wear ear protection if you get to climb up the bell tower! Or better still, try that shotgun mic from a sensible distance…
Ding-a-ling with "Jingle Bells"
One of the ultimate Christmas classics is "Jingle Bells", which surely owes a huge part of its appeal to the imagery it conjures up of a cheerful sleigh ride through a snowy landscape with the rhythmic ting-a-ling of bells.
"The Sennheiser e 914 is ideal for picking up this sort of sound or bells of any kind," says Carsten Kümmel. "The e 914 is a high-quality, yet affordable condenser microphone with excellent dynamic range. Thanks to its silky high-frequency response, professionals like to use it for miking a hi-hat or as an overhead solution. With a reasonable distance of 80cm or 1 m, the e 914 is perfectly suited for a bell strap. Of course, you can also use a dynamic handheld microphone such as the Sennheiser e 935, if available, but in this case, you would have to choose a slightly smaller distance from the sound source."
Click here for part 2.