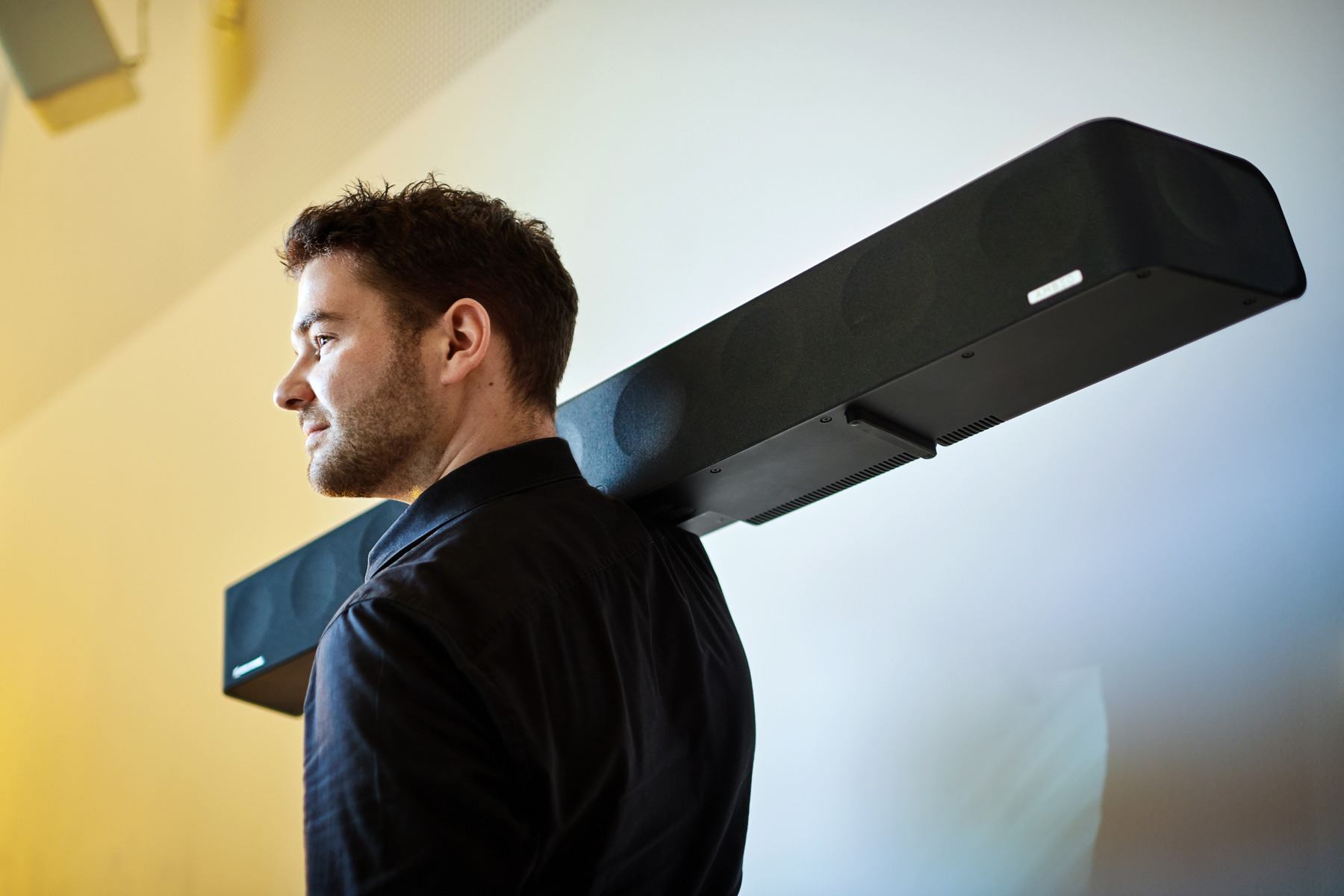 A Heavyweight in Sound Production.
75 Years, 75 Moments: MAXIMILIAN VOIGT
When Product Manager Maximilian Voigt needs to bring his product to a meeting, it is almost impossible to transport. The AMBEO Soundbar is his baby and it really is in a class of its own. It is far too big for a Euro pallet and, weighing in at 18.5 kg, is not exactly designed to be portable. But it needs to be so substantial. After all, this is the future of 3D sound in home entertainment and can rival the full volume of a 5.1.4 multi-speaker system. It is also the first soundbar on the market to produce extremely deep bass without the need for an additional subwoofer. "At some point, I developed a tactic of putting the soundbar on my shoulder and making sure that I didn't knock anyone over who was coming the other way. My plan has always worked well so far," he says.
Max joined Sennheiser in 2017 and was immediately surprised. "I didn't expect my first project to be so big and so crucial for the brand. There was also no previous experience to build on. We were a small team. This had its advantages as it meant we could always organize ourselves and respond quickly. The fact that such a small core team was able to succeed was largely due to the fact that everyone involved truly believed that they were developing something new and unique.
"Innovation is key. And you have to act quickly. That is why we went to trade fairs at a very early stage with the first prototypes and listened very carefully to customer feedback. We were often pretty nervous to start off with, but when you stand at your trade fair booth and see the people waiting in line to see how it sounds, that's pure magic," remembers Max. The audience was always amazed to discover that such a full-bodied sound was produced without an extra speaker, and that's when Max knew that they really were on the right track.
Max is proud that this heavyweight in sound production has become the new reference in the Soundbar market. When he thinks back on the project, he has particularly fond memories of a live recording with Imogen Heap, which was used in all of the sound tests. So what else does he recommend for future soundbar customers? "Hans Zimmer. His Dolby Atmos Blu-ray. Now that really shows what the soundbar can do."
Here you can find more stories from the Sennheiser Crew.